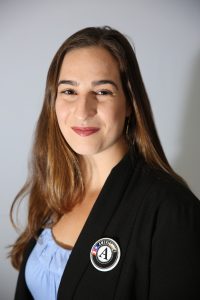 This week, the spotlight is on 2019-2020 CHCACT's STICH AmeriCorps member Sarah Mongillo. Sarah shares details about her AmeriCorps experience at StayWell Health Center in Waterbury.
Why did you decide to join the STICH AmeriCorps program?
Sarah: I have always wanted a career that is centered on community development, and a class in college sparked my interest in public health. The Service to Improve Community Health (STICH) program was the perfect way to develop my skills and be involved with health education, which was my biggest interest in public health. The STICH program is an opportunity to explore my own interests while having the autonomy to become involved in the community in my own meaningful way.
What has been the most meaningful experience you've had during service thus far?
Sarah: I really like the community events I get to participate in as part of service. My favorite event was before Thanksgiving. A health center was distributing turkeys, side dishes, and entire baskets of fresh fruits and vegetables. I loved that we could provide families with healthy, fresh foods, and I especially loved walking with people to their cars and talking about what they were going to do with the food and their families. I enjoyed hearing about peoples' lives outside of the context of a health center and seeing how our efforts affect them.
If you had to describe your AmeriCorps experience in three words, what would that be? Why? 
Sarah:
Collaborative
Supportive
Opportunistic
My experience so far has been the most fulfilling when I get to collaborate with others. Whether its presentations with other STICH AmeriCorps members or working with community partners, I feel most successful when more people are involved. Most of the time, people are very supportive of whatever I want to do because the nature of our program is to serve and improve community health. My cohort is very supportive and encouraging, and they always provide fresh perspectives to any challenges I am facing. With that said, I have had plenty of opportunity to create projects and initiatives that align with my personal goals, and everyone has the ability to ask for help and take advantage of the strengths of others in order to make things happen.
How has service, so far, changed you and your perspective of the world?
Sarah: I have learned that even though I am not an expert at something, my information or efforts can still make a difference for people. I have found that simply having access to some resources or knowledge makes a huge difference, because you never know what someone does not know. This has given me a little more confidence in presenting and putting myself out there.
What advice would you give to those interested in participating in AmeriCorps? 
Sarah: The best thing you can do is keep learning and developing. The STICH program will give you the opportunity to learn how to organize, outreach, present, and educate and so much more. My advice is to think about your personal goals and interests and always keep them in mind during service, because you have plenty of opportunities to work towards those goals.