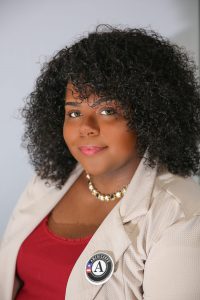 This week, the spotlight is on 2019-2020 CHCACT AmeriCorps member Jayda Hawley. Jayda shares details about her AmeriCorps experience at First Choice Health Center in East Hartford.
Why did you decide to join the STICH AmeriCorps program?
Jayda: I joined the STICH AmeriCorps program immediately after completing my undergraduate degree in Public Health. The main reason I joined was to explore and learn more about the healthcare field. I wanted to accelerate learning and skill-building from someone currently working in the field. I've always had a passion for health care but I wasn't sure what I wanted to do exactly.
What has been the most meaningful experience you've had during service thus far?
Jayda: The most meaningful experience I have had so far has been going out into the community and helping people. I find it very refreshing to use the different resources and connections I have made so far to help others. I have been able to help educate people on various health topics and more.
If you had to describe your AmeriCorps experience in three words, what would that be? Why? 
Jayda:
Insightful
Rewarding
Unforgettable
Not only have I learned the ins and outs of the healthcare system, but I have also been introduced to an accomplished mentor in my field that has been able to guide me and give me one-on-one time and insight to help me with the competitive edge that I need. I will never forget this experience and all of the great opportunities and networks it has brought me.
How has service, so far, changed you and your perspective of the world?
Jayda: My service here so far has changed my outlook on life in many ways. I have previous experience working clinically but getting hands-on experience with patients from the administrative point of view brings everything together. This exposure has grounded me and helped me gain a better understanding of the logistics of life.
What advice would you give to those interested in participating in AmeriCorps? 
Jayda: I would tell everyone to consider joining the STICH AmeriCorps program. This program will give you the connections and skills you need to put your foot in the door. It will also give you the confidence needed to get the dream job you want.