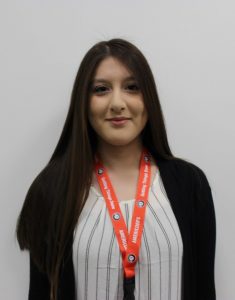 This week, the spotlight is on 2018-2019 CHCACT AmeriCorps member Breanna De Leon. Breanna shares details about her AmeriCorps experience at Cornell Scott-Hill Health Center in New Haven.
Why did you decide to join the STICH AmeriCorps program?
Breanna: Serving the underserved and advocating for social justice within health care systems has always been my passion, as all of my immediate grandparents have passed away from preventable and treatable chronic diseases. I knew I wanted to serve in an AmeriCorps program that was centered around chronic care management and addressing social determinants of health. I decided to join STICH AmeriCorps because I believe in improving health and wellness for all and the Cornell Scott-Hill Health Centers have excellent programs that allow me to directly help with patient care management.
What has been the most meaningful experience you've had during service thus far?
Breanna: It is hard to pick just one meaningful experience. I interact with many patients and help them connect to resources that can help improve their health. Every patient case has its own success story. It is meaningful to me when I follow up with patients and they let me know that the help and resources I have provided them with have made a positive impact in their life. Cornell Scott-Hill Health Center has also provided me many opportunities to go into the community and serve at local food banks.  Those have been heartwarming experiences to me because I am passionate about ending food insecurities within my community.
If you had to describe your AmeriCorps experience in three words, what would that be? Why? 
Breanna:
Foundational
Motivating
Eye-opening
My AmeriCorps experience thus far has helped me understand patient advocacy and public health on a much deeper level. I have learned a wealth of knowledge about health inequities and social determinants of health that are negatively impacting my community. Overall this has been an eye-opening experience as I have learned about the many injustices and issues within our health care system. I have become even more motivated to address the barriers to care within my community and ensure that residents of New Haven are able to live their best and healthiest lives.
How has service, so far, changed you and your perspective of the world?
Breanna: I believe my service has solidified my desire to pursue a future in public health and eventually primary care. I have a better understanding of health insurance literacy and the importance of active insurance coverage. I am more aware of the issues within the health care system. When I am a physician, I can work towards eliminating barriers to care for my patients.
What advice would you give to those interested in participating in AmeriCorps? 
Breanna: JOIN! If you are passionate about improving the health and well-being of your community then this is the right program for you. STICH AmeriCorps is an amazing program with a very organized and insightful program coordinator and program manager. This is a great program and everyone should consider serving!