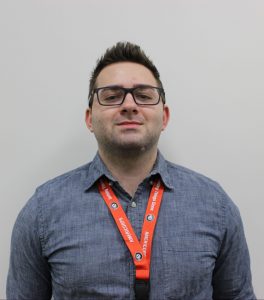 This week, the spotlight is on 2018-2019 CHCACT AmeriCorps member Cory Williams. Cory shares details about his AmeriCorps experience at Fair Haven Community Health Clinic.
Why did you decide to join the STICH AmeriCorps program?
Cory: After graduating college, I knew I would have to take a gap year before attending medical school. I wanted to participate in something worthwhile during the year off that incorporated my passion for health care and community service. STICH provided an incredible opportunity to serve at a federally qualified health center and facilitate trainings on health education and health insurance literacy, all of which aligned perfectly with my interests.
What has been the most meaningful experience you've had during service thus far?
Cory: All of the projects and experiences have been incredible, but my favorite and most meaningful experience has to be engaging with individuals at mobile food pantries. Interacting directly with individuals is what I love the most, and being able to provide them with necessary resources on the spot is a very fulfilling experience.
If you had to describe your AmeriCorps experience in three words, what would that be? Why? 
Cory:
Rewarding – Being in a position where I am both directly and indirectly responsible for providing individuals with information/resources to better their health is an extremely rewarding and life changing experience.
Selflessness – The projects and positions at a federally qualified health center vary greatly, but the primary goal is to make sure the patients receive the best care possible. It is very evident, from the demeanor of the staff members I have engaged with, that the patient experience always comes first.
Enlightened– Serving at a federally qualified health center has exposed me to various circumstances that I may have never been exposed to if I never served in AmeriCorps.
How has service, so far, changed you and your perspective of the world?
Cory: Serving at a federally qualified health center gives you first-hand exposure to a handful of circumstances that you may never be exposed to if you never serve in a similar setting. My service has increased my passion to pursue medicine and potentially work in a similar setting as a future physician.
What advice would you give to those interested in participating in AmeriCorps? 
Cory: I highly recommend the program if you are interested in health care, social services, interacting with people, and/or making an impact on your community. The service you will do in the STICH AmeriCorps program will be something that you can look back on as a life changing experience.