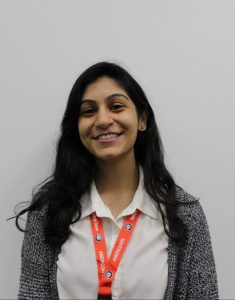 This week, the spotlight is on 2018 - 2019 CHCACT AmeriCorps member Rubina Bhura. Rubina shares details about her AmeriCorps experience at First Choice Health Centers in East Hartford.
Why did you decide to join the STICH AmeriCorps program?
Rubina:  I am a strong advocate for human rights and learning about healthcare in the United States. I plan on going to medical school and really wanted to take a gap year doing something meaningful. I loved participating in service projects in college, including facilitating health education lessons. The STICH AmeriCorps program was a perfect fit for me!
What has been the most meaningful experience you've had during service thus far?
Rubina: It is difficult to articulate how meaningful my service year has been so far. Perhaps one of the most rewarding experiences has been helping to coordinate various aspects of a blood pressure control program for our hypertensive patient population. I loved getting to know the patients in our program and helping them to set and achieve their health goals.
If you had to describe your AmeriCorps experience in five words, what would that be? Why? 
Rubina: Impactful- From trying to improve colon cancer screening rates, setting health goals with our hypertensive patients, and facilitating health education and health insurance literacy lessons, I have had the chance to be a part of a range of different projects that have all had a positive impact on the community I serve.
Insightful- I have learned SO much, from all the great work community health centers do, how to think like a clinician, as well as learning how to navigate through challenges that come my way.
Supported- I have met and connected with so many people through my AmeriCorps experience who are incredibly supportive and encouraging of my future goals. I have found mentors and role models and made plenty of friends!
How has service, changed you and your perspective of the world?
Rubina: My experience has shaped me as an individual and influenced my future career as a physician. It has given me greater insight into the various social determinants of health and the work community health centers do to break down those barriers.
What advice would you give to those interested in participating in AmeriCorps? 
Rubina: I would definitely encourage anyone interested in healthcare or serving in underserved communities to participate. It is a great way to get involved with community health centers. My advice would be to get out of their comfort zones, network, and take advantage of this awesome learning opportunity!