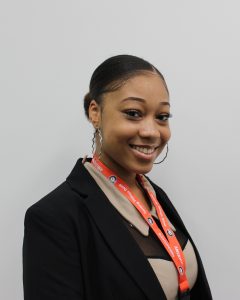 This week, the spotlight is on 2018-2019 CHCACT AmeriCorps member Jazmin Capel. Jazmin shares details about her AmeriCorps experience at StayWell Health Center in Waterbury.
Why did you decide to join the STICH AmeriCorps program?
Jazmin: I wanted to join the STICH AmeriCorps Program because I wanted to serve my community, develop professional skills, and gain experience.
What has been the most meaningful experience you've had during service thus far?
Jazmin: My most meaningful experience during service was attending other STICH members' service projects. It allowed me to explore other communities and other nonprofits that are in surrounding areas. It was also nice to help others in different ways.
If you had to describe your AmeriCorps experience in three words, what would that be? Why? 
Jazmin:
Impactful- because you help others in the community
Challenging- because you have to be creative and find ways to contribute to your health center while also conducting outreach in your community
Rewarding- because after the experience you can establish great connections and networks. While also feeling like you've contributed in helping the community
How has service, so far, changed you and your perspective of the world?
Jazmin: Service has helped broaden my perspective of my community. During my service I was able to learn what services were available to those in need. Before I served I didn't realize what my community had to offer. I've also learned a lot about myself professionally throughout this experience.
What advice would you give to those interested in participating in AmeriCorps? 
Jazmin: One piece of advice I would give another STICH member is to be courageous and don't be afraid to take risks. AmeriCorps is a learning experience so don't be afraid to do something you're uncomfortable with. Whether it's practicing public speaking or just learning how to network. Put yourself out there and see what comes back to you! And always try to have fun throughout the experience!