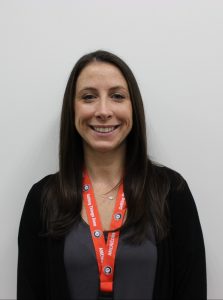 This week, the spotlight is on 2018-2019 CHCACT AmeriCorps member Kelly Baratko. Kelly shares details about her AmeriCorps experience at United Community & Family Services, Norwich - School Based Health Center at Kelly Middle School.
Why did you decide to join the STICH AmeriCorps program?
Kelly: While studying Public Health at Eastern Connecticut State University, I was exposed to the idea that access to health care is a right, not a privilege. After learning the STICH program's main initiative – to help people navigate the health care system through education and outreach – I was immediately drawn to the idea and realized the value this program had to offer. It seemed like a unique opportunity where I would gain valuable, hands on experience while giving back to my community.
What has been the most meaningful experience you've had during service thus far?
Kelly: It's hard to pick just one! I've had the opportunity to be a head coach for Girls on the Run, an after-school program that focuses on physical and mental health for adolescent girls through various running activities while training for a 5k run. Watching the girls learn about themselves and progress through the season as a team has been incredibly rewarding and empowering.
If you had to describe your AmeriCorps experience in three words, what would that be? Why? 
Kelly:
Significant – My day to day tasks at the School-Based Health Center help improve efficiency for the six satellite sites and connect students and their families to resources in the area. Through these daily tasks, I am able to directly witness the impact I'm making.
Grounding – this experience has introduced me to obstacles people face on a daily basis, some things I never would have known if I hadn't taken this opportunity. It's a daily reminder of the health inequalities many individuals in our nation face.
Motivating – seeing the difference I'm making and the appreciation I get back from those I interact with propels me forward to keep doing what I'm doing and reminds me why I'm serving in the first place.
How has service, so far, changed you and your perspective of the world?
Kelly: This experience has allowed me to participate in different initiatives to improve health outcomes in our communities, which have taught me a lot about myself and opened doors I didn't think were possible along the way.
What advice would you give to those interested in participating in AmeriCorps? 
Kelly: Go for it! There is so much to be gained from this experience and it's a great way to make connections with community organizers in your area. You will find yourself out of your comfort zone and be presented with challenges along the way, but I can tell you it's well worth it.