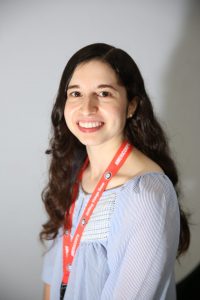 This week, the spotlight is on 2019-2020 CHCACT's STICH AmeriCorps member Katie Prota. Katie shares details about her AmeriCorps experience serving with Fair Haven Community Health Care in New Haven.
Why did you decide to join the STICH AmeriCorps program?
Katie: I decided to join the STICH AmeriCorps program as a way to get an introduction to the healthcare field. After working in marketing for a couple of years, I realized that this career path wasn't for me and I wanted to pursue my interest in health care. STICH offered the opportunity to serve at a Community Health Center while providing education to community members and encouraging them to be advocates for their health. I thought this program would be great for me to not only gain valuable experience in the healthcare field, but also to see firsthand how our healthcare system works. Also, I joined STICH because I always wanted to do a service year and be part of a program that would allow me to help those in my community.
What has been the most meaningful experience you've had during service thus far?
Katie: It is very hard for me to just pick one. I will say that the most meaningful experiences for me have come when I have been out in the community and interacting with people. I really enjoy being able to share my knowledge and educate people on topics that will help them improve their lives. Also, getting the opportunity to address food insecurity in my own community has been another meaningful experience for me. During my service, I have gotten the chance to help out several mobile food pantries and at a soup kitchen.
If you had to describe your AmeriCorps experience in three words, what would that be? Why? 
Katie:
Fulfilling- My AmeriCorps experience has been very rewarding. I have enjoyed my service at Fair Haven Community Health Care (FHCHC) and helping them work towards their mission of providing high quality and patient-centered care that is accessible to everyone. FHCHC really works to improve the health and social well-being of every member in its community. Through my efforts on different projects and initiatives, I feel that I am helping FHCHC to achieve this goal. I am very grateful for the opportunity to be part of FHCHC's mission.
Informative- My time at FHCHC has really opened my eyes to the inequalities that exist in health care. I have always believed that everyone should have access to quality health care. However, there are many barriers to care that people face and it is becoming more and more challenging for people to navigate the health care system.
Appreciative- My AmeriCorps experience has made me very appreciative of Community Health Centers. I am glad that there are places like FHCHC that strive to provide health care to everyone and truly care about the well-being of the people they serve.
How has service, so far, changed you and your perspective of the world?
Katie: I mentioned this a bit already, but my service has allowed me to get firsthand experience in health care and to see the inequalities that exist in this field. There are many barriers to care that people face and it is important to consider social determinants of health when evaluating someone's well-being.  It is great to see that there are health care centers in CT that are working to navigate these barriers and help break them down. As for me, my service has allowed me to explore my passion for health care and has helped me to see that I want to go into medicine.
What advice would you give to those interested in participating in AmeriCorps? 
Katie: I would say go for it! Whether you are interested in health care or not, this is a great experience that will teach you many professional skills and allow you to meet a lot of wonderful people. It is an excellent opportunity for those interested in service and want to address the needs in their community.