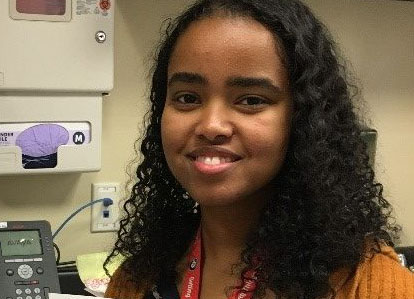 This week, the spotlight is on 2018-2019 CHCACT AmeriCorps member Fahima Dirir. Fahima shares details about her AmeriCorps experience at Charter Oak Health Center in West Hartford.
Why did you decide to join the STICH AmeriCorps program?
Fahima: What most attracted me to the STICH program was the opportunity to gain a greater understanding of public health care. In the future, I hope to expand upon the health care systems in place in Somaliland to give access to holistic healthcare to all Somalilanders. It was my intention to familiarize myself with the models in place at my FQHC, such as patient pods, to modify and implement such practices abroad to best serve urban and rural areas.
What has been the most meaningful experience you've had during service thus far?
Fahima: My most meaningful experience has been overseeing the implementation of the Read to Grow Prenatal Program in our Women's Health suite. In this program, I give expecting mothers the tools and knowledge to accelerate their child's cognitive development, which in turn has proven positive impact on the future success of children throughout their lives. While my general service around health literacy has a tangible impact, it has been especially rewarding to improve the outcomes of an upcoming generation through a simple series of 15-minute sessions. Naturally, there is the added bonus of giving mothers hope for a bright future for their child.
If you had to describe your AmeriCorps experience in three words, what would that be? Why? 
Fahima:
STICH service requires dedication, particularly when navigating sensitive situations within a disenfranchised population.
My service has been fast paced. I have been able to help the Charter Oak Health Center in multiple areas, which leads to increased overall quality of care for patients.
My experience has been gratifying to say the least; I have witnessed first-hand the empowerment that comes with improved health, and the steps patients have taken to improve other aspects of their lives as a result.
How has service, so far, changed you and your perspective of the world?
Fahima: As a Political Science major, I studied health inequity in both great fascination and detail. However, upon joining the STICH program I quickly discovered the deep complexities of what it means to face health disparities. Each of the diverse projects I've had the pleasure of helping with have increased my awareness of the necessity of care coordinating services. While many individuals need better access to medical services, this care can be ineffective without the dedication of social workers, PSR's, CHW's, and many others. I hope to use this knowledge to increase quality of health care on a global scale.
What advice would you give to those interested in participating in AmeriCorps? 
Fahima: STICH has offered me wonderful opportunities which didn't depend upon my background/what I thought I could do. Through the guidance of administrative and medical staff, I have been able to create personal projects that both pique my interest and reflect the needs of my Service Site. Granted, some projects and tasks may feel daunting. However, as a STICH member I have received onsite training and guidance as needed to excel in everything I accomplish and become equipped to enter the public health workforce.