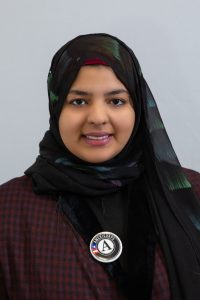 This week, the spotlight is on 2019-2020 CHCACT's STICH AmeriCorps member Fajar Alam. Fajar shares details about her AmeriCorps experience serving with Wheeler Clinic in Waterbury.
Why did you decide to join the STICH AmeriCorps program?
Fajar: I am interested in examining medicine from a holistic lens, which means looking at a patient's outer conditions as a part of their overall healthcare. Therefore, I joined the STICH program because it provides an opportunity to serve those who are from medically underserved communities and to assist them with overcoming the outer conditions that affect their health outcomes.
What has been the most meaningful experience you've had during service thus far?
Fajar: The most fulfilling experiences are the ones where visible progress, no matter how small, is made. For example, I often help patients create, manage and meet their health care goals. Even if the goals are not attained by our next appointment, the fact that the patient is even mindful of them is a great achievement.
If you had to describe your AmeriCorps experience in three words, what would that be? Why? 
Fajar:
1.Eye-opening-Prior to my AmeriCorps experience, I had some basic knowledge of the social determinants of health that certain demographics face. However, actively serving in a FQHC and encountering patients firsthand reveals the complicated layering of these factors.
2.Impactful- This experience gives me the opportunity to make an impact on bettering the health of the community I serve through helping patients overcome their barriers to healthcare, improving cancer screening rates and conducting health education/health insurance literacy sessions.
3.Collaborative-To achieve the common goal of health equity, I work with various health professionals, licensed social workers, community health workers and non-profit organizations. This team-based approach leaves "no stone unturned" with regards to the patient's healthcare.
How has service, so far, changed you and your perspective of the world?
Fajar: This experience has further strengthened my desire to enter the medical field and assist those who are most medically vulnerable. Moreover, it has given me insight on the complexities of underlying health disparities in the United States. This service has increased my knowledge of several public policies, bureaucratic systems and the health care system of the US in general; all of which impact the underserved patient population the hardest. It is much more insightful to navigate these structures through service rather than plainly learning about them in a classroom/lecture setting, which is why I am grateful for this experience.
What advice would you give to those interested in participating in AmeriCorps? 
Fajar: If you are interested in public health, medicine, human rights, community development and/or public policy, then you should join the STICH AmeriCorps program. This program teaches you patient-interaction, time management, organization and several other skills that are invaluable for your future career paths. If you come in ready to learn and have an open mind, then you will quickly see the benefits of this program.